CrowdPharm Named PM360 Trailblazer 2022 Finalist for Professional Campaign and Agency of the Year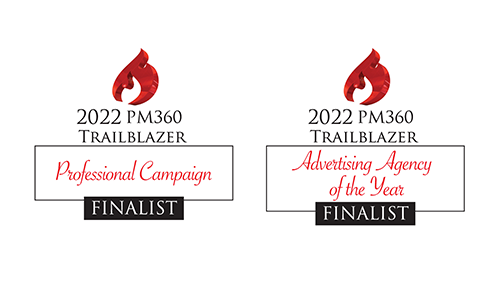 KANSAS CITY, MO— August 17, 2022 – CrowdPharm, a full-service agency whose proprietary technology fuels one of the largest global healthcare talent networks anywhere, announced today that PM360, a publication for marketing decision-makers in the pharmaceutical, biotech, diagnostics, and medical device industries, has named CrowdPharm a Trailblazer 2022 finalist in two categories: Initiative Award for Professional Campaign, and Company of the Year for Advertising Agency.
"What an incredible honor to be recognized in both of these categories. This is a reflection of the hard work and dedication of our amazing team and global network who go above and beyond every day for our clients, each other, and our agency," said Mike Myers, CrowdPharm Managing Director and Partner. Since 2009, the PM360 Trailblazer Awards have recognized outstanding achievement and innovation in healthcare marketing. Each year, nominations are judged by the PM360 Editorial Advisory Board, a distinguished cross-section of industry experts.
Trailblazer Initiative Award in the Professional Campaign Category
Winning initiatives were selected for their ability to stand out in the complex, ever-changing healthcare environment, and were judged on their ability to overcome challenges; skill, innovation, and quality of planning and execution; and the effectiveness of the work. A total of 78 finalists were chosen in the 16 Initiative categories.
"Every year, billions of dollars and countless hours are spent trying to craft the very best campaigns, initiatives, and engagement methods, but ultimately only a select few manage to truly resonate with audiences and drive real results," says Anna Stashower, CEO and Publisher of PM360. "The 78 finalists in our various initiative categories represent that select few. These projects found unique ways to wow, educate, empower, and inspire their audience—even tug at their heart strings. They have raised the bar for what great marketing in our industry looks like."
Trailblazer Company of the Year in the Advertising Agency Category
The Company of the Year judging criteria included innovation (pursuit of excellence and innovation across the board in advertising, sales, product development, public relations, and communication); talent development (a record of attracting, developing, and keeping talent); and social responsibility (supporting patient access, civic and global involvement, and environmental consciousness). Companies of the year are selected in five categories: Pharma/Biotech, Medical Device/Diagnostics, Specialty Pharma/Biotech, Advertising Agency, and Vendor/Supplier.
"Companies today, in all industries, are held to a higher standard beyond the products or services they provide," says Stashower. "What makes these finalists worthy of being called one of the top companies in their field is their ability to deliver on that promise of going above and beyond. Not only are they developing and delivering innovative and game-changing therapies, devices, and tools and engagement strategies to support those products, but they are also setting the standard for environmental, social, and governance practices that are helping improve their local and global communities."
 Winners of all categories will be announced at a live celebration on September 22 and will be included in PM360's October issue.
About CrowdPharm
CrowdPharm is an independent full-service agency led by industry veterans and fueled by one of the largest networks of global talent anywhere. The agency's innovative approach, supported by their proprietary technology platform, delivers an abundance of original strategic and creative solutions across time zones, and provides a flexible force of talent with experience that spans startups, orphan products, blockbusters, and primary care. With 4300+ members from 110 countries, CrowdPharm is ready to develop compelling brand communications in healthcare, medical, and pharmaceutical marketing for pharmaceutical and biopharma companies. Visit crowdpharm.com.
About PM360
PM360 is the premier, must-read magazine for marketing decision makers in the pharmaceutical, biotech, diagnostics, and medical device industries. Published monthly, PM360 is the only journal that focuses on delivering the full spectrum of practical information necessary for product managers and pharmaceutical marketing professionals to succeed in the complex and highly regulated healthcare environment. The journal's targeted and insightful editorial focuses on issues that directly impact critical decision making, including planning and implementation of cutting-edge strategies, trends, the latest technological advances, branding/marketing, advertising/promotion, patient/professional education, sales, market research, PR, and leadership. Additionally, the "360" in the title signifies the span of this critical, how-to info with personal and career insights for an enjoyable and thought-provoking read. By providing the full circle of enriching content, PM360 is truly an indispensable tool for busy and productive marketing professionals to stay at the top of their game. Visit PM360
For more information, contact:
Lori Goodale
VP, Director of Marketing and Corporate Communications
518.366.7230
lorigoodale@crowdpharm.com